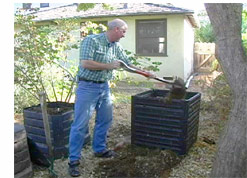 This page displays a collection of articles, reports, interviews, book and anthology excerpts, PowerPoint presentations, and presentation transcripts on the living urban environment. Built environments can support significant wildlife and plants through intelligent urban landscape planning. Air quality, property values, and aesthetics are improved by adding trees, flowers, plants, and native grasses to urban spaces. This vegetation cools urban environments, saves energy, and reduces carbon dioxide emissions while also providing habitat and improving retention of rainwater.
The living urban environment includes urban forests, public parks, paths and trails, gardens, roadsides, arboretums, easements, riparian corridors, and open spaces. Specific topics also include water conservation, native plants, xeriscaping, integrated pest management, and minimizing chemical use.

Conference & Campus Speakers On
Living Urban Environment Here >>

From The Ground Up: The Story Of A First Garden. Book excerpt by Amy Stewart. From The Ground Up (Buy Here >>
) is a chronicle of the seedlings and weeds, cats and compost, worms and watering that transform a tiny plot of earth into a glorious garden. From planting the seeds her great-grandmother sends to battling snails, gophers, and aphids, Stewart takes us on a tour of her coastal garden and shares the lessons she's learned the hard way. Book Excerpt >> Buy Here >> More about Amy Stewart >>

The Earth Moved: On The Remarkable Achievements Of Earthworms. Book excerpt by Amy Stewart. The Earth Moved (Buy Here >>
) takes us on a subterranean adventure and introduces us to our planet's most important gatekeeper: the humble earthworm. It's true that the earthworm is small, spineless, and blind, but its effect on the ecosystem is profound. Stewart investigates the earthworm's astonishing realm, talks to oligochaetologists who have devoted their lives to unearthing the complex web of life beneath our feet, and observes the thousands of worms in her own garden. Book Excerpt >> Buy Here >> More about Amy Stewart >>

The Zen Of Gardening In The High And Arid West: Tips, Tools, And Techniques. Book excerpt by Dave Wann. The Zen Of Gardening (Buy Now >>
) is a mix of stories, how-to advice, and simple, doable projects ideal for gardeners in the high and arid landscapes of the West. For gardeners of the high plains and mountains who are "meteorologically and topographically challenged," who routinely grapple with wild weather swings, high elevations, and scarcity of water, Wann offers inspiration and invaluable practical advice for success. Book Excerpt >> Buy Now >> More about Dave Wann >>
An additional collection of articles on Urban Greening related issues is available from The EcoIQ Magazine here.

Conference & Campus Speakers On
Living Urban Environment Here >>