American Farmland Trust Releases
Urban Sprawl Study

American Farmland Trust, the nation's leading farmland conservation group, has released the study, Living on the Edge: The Costs and Risks of Scatter Development. `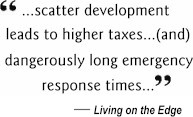 Conducted by researchers at Northern Illinois University, the study found that scatter development leads to higher taxes for residents in surrounding municipalities.
In addition, the report showed that people living in areas of sprawling growth face dangerously long emergency response times for ambulance, fire fighting and police services.
To review the study, visit http://farm.fic.niu.edu/cae/scatter/index.htm.
To read other articles and reports about land use and sustainable communities...

Terrain: Journal On The Built & Natural Environments
Terrain: Journal On The Built & Natural Environments is online at www.bod.net/terrain.
A non-profit, submission-based quarterly journal, Terrain publishes quality technical and journalistic articles, reviews, essays, fiction, poetry, and artwork related to each issue's theme. Each issue also includes columns by the editors (Simmons B. Buntin and Todd Ziebarth) and a guest editorial, an UnSprawl community case study, news of note, events, and links. Themes in the next year will be "Patterns of Mobility," "The River's Turn," and "The Suburban Frontier."
For more information,contact:
Simmons B. Buntin
P.O. Box 740921
Arvada, Colorado 80006-0921.
E-mail: buntin@bod.net.

ABAG Announces Power Matters '98 Conference
November 4 & 5, Marriott City Center, Oakland Convention Center.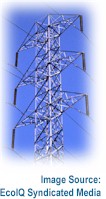 Power Matters '98, a two-day conference and exposition on California's deregulated energy market, is sponsored by ABAG, one of the largest power aggregators in California. Power '98 is designed to help energy professionals understand and take advantage of the opportunities created by deregulation.
Conference sessions will cover topics such as financing and purchasing energy; energy service and infrastructure changes; metering and measurement; and energy trading. The event is geared toward public agencies and major corporations who are currently, or are considering, purchasing power on the open market. More information is available at http://power.abag.ca.gov.

Journal of Sustainable Product Design Seeking Articles
The Journal of Sustainable Product Design is seeking high quality articles of between 2000 and 2500 words on the following issues:
managing eco-design
eco-design tools
sustainable product development and design
role of products and services in sustainability
dematerialisation
products to services
greening of product development
green marketing
case studies
For more information, or to subscribe to the journal, contact Martin Charter. To visit, go to www.cfsd.org.uk/journal.

California's Second Chance Week Gets a Second Chance
During Second Chance Week 1997, local governments, reuse businesses, nonprofits, schools, and others worked together to hold activities that provided opportunities to give stuff that might otherwise have been thrown away a "second chance." Overall, activities attracted almost 20,000 participants and resulted in the diversion of reusable items such as toys, clothing, furniture, appliances, computers, and building materials. And as a result of this success, plans are in the works for a second annual Second Chance Week.
Reuse is an important yet under utilized component of the three R's - Reduce, Reuse, and Recycle. Reuse conserves energy, natural resources, and landfill space and creates jobs in the process. According to the Institute for Local Self Reliance, if only half of the 25.5 million tons of durable goods now discarded (such as used appliances, furniture, clothing, and machinery) were reused, more than 110,000 new jobs could be created. Reuse also supports nonprofits, charities, schools, and artists through increasing the amount of useful goods and materials donated or made available at low cost.
For more information: Please call the toll-free hot-line at 1-888-385-7240 or e-mail LGC staff at lgc.waste@bbs.macnexus.org. Visit the Second Chance Week website at www.secondhand.com.