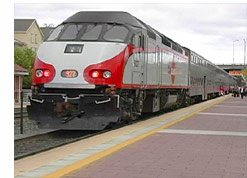 Articles and other written resources (including reports, interviews, book and anthology excerpts, PowerPoint presentations, and presentation transcripts) with a focus on transportation and mobility are included in this section. Switching to clean fuel technologies and increasing the use of alternative transportation methods that have a significantly reduced carbon footprint are key elements in environmental sustainability.
Widespread reliance on large inefficient vehicles powered by fossil fuels to meet our transportation needs has contributed significantly to global warming. Plug-in hybrids, electric vehicles, bicycles, pedestrian friendly communities, cellulosic biofuels, and integrated mass transit infrastructure all have a part to play in meeting our transportation needs more sustainably.

Conference & Campus Speakers On
Transportation & Mobility Here >>

Clean Cars: Kicking America's Oil Habit. Report by Roger Ballentine. The costs of America's dangerous addiction to oil are mounting. Auto emissions are deeply implicated in global climate change. Report >> More about Roger Ballentine >>

Gentlemen, Start Your Fuel Cells! The Hydrogen Road Tour Takes Off. Article by Jim Motavalli. A cross-country tour of state-of-the-art hydrogen-powered vehicles demonstrates their potential, while bringing to light the challenges they face in becoming a reality for the general public. Article >> More about Jim Motavalli >>

Power To The People: Run Your House On A Prius. Article by Jim Motavalli. Dr. Swinney lost power at his home during a hurricane, but he plugged his Toyota Prius into the backup uninterruptible power supply unit and soon the refrigerator was humming and the lights were back on. Article >> More about Jim Motavalli >>

Playing Polo: A Super Green VW Diesel For The U.S.? Article by Jim Motavalli. Why wouldn't Volkswagen's Polo BlueMotion diesel car, with a combined average 61 MPG fuel efficiency, be imported to the US? Article >> More about Jim Motavalli >>

Fuel-Cell Surprise. Article by Jim Motavalli. For a decade or longer, the fuel-cell car has resembled the mirage that recedes as you draw closer to it. All that changed recently when Honda handed me the keys to the first hydrogen-driven vehicle to be certified by the U.S. EPA and the state of California for everyday commercial use. Article >> More about Jim Motavalli >>

IndieBound: Transportation. Interview with Jim Motavalli. Motavalli weighs in on individual rights and transportation, the politics and infrastructure of passenger rail, clean fuel buses, the year that hydrogen fuel cell technology will be financially viable, and more. Interview >> More about Jim Motavalli >>

Diesel vs. Hybrid. Article by Julie Halpert. Discusses whether cars with more environmentally-friendly diesel engines will overtake hybrid cars. Article >>
An additional collection of articles on Transportation related issues is available from The EcoIQ Magazine here.

Conference & Campus Speakers On
Transportation & Mobility Here >>