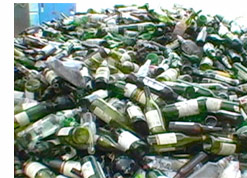 This section focuses on wastes and recycling articles, speeches, reports, interviews, book and anthology excerpts, PowerPoint presentations, and presentation transcripts. Topics include waste reduction, zero waste, reuse, recycling programs and policies, salvage and remanufacturing, recycled content materials and products, municipal, industrial, and manufacturing solid waste, green waste, waste biomass, composting, construction and demolition debris, waste to energy, and toxic and hazardous waste.
A critical part of sustainability is recycling absolutely everything possible in commercial, industrial, and residential environments. Minimization of the valuable materials that end up in landfills and maximization of materials reused for high-value purposes is vital. This relieves pressure on the Earth's natural resources and environments by reducing the need to extract virgin raw materials.

Conference & Campus Speakers On
Wastes & Recycling Here >>

From Wastes To Resources: It's Time for a Paradigm Shift. Article by Richard Gertman. We need to return to the goal -- sensible diversion programs that recover materials and maintain their value. "Resources should be recovered for their value, not just to keep them out of a landfill. We need to change the focus, but to do so will require a paradigm shift." Article >> More about Richard Gertman >>

Packaging And Plastics: What's A Consumer to Do? Article by Natalie Reitman-White and Bob Doppelt. Reviews the problems and sustainable solutions in plastic packaging. Includes discussions of our throw away society, plant-based bioplastics, compostability and recycling issues, genetically engineered plastics, corn plastic, and consumer choices. Article >> More about Bob Doppelt >>
An additional collection of articles on Solid Waste & Recycling related issues is available from The EcoIQ Magazine here.

Conference & Campus Speakers On
Wastes & Recycling Here >>