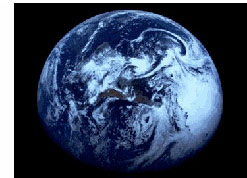 Articles and other written resources (including reports, interviews, book and anthology excerpts, PowerPoint presentations, and presentation transcripts) with a broad focus on sustainability, or on several of the issues that together comprise the substance of sustainability, are included in this section. Other sections of the EcoIQ.com articles collection focus on individual topics.
Since many environmental and sustainability issues are highly interrelated, it is common to focus on clusters of topics. Renewable energy and energy conservation are often joined with green building and climate change. Likewise, community planning and design are often combined with transportation and air quality. Business and the economy are frequently paired with industry and manufacturing. Water supply, agriculture, and protecting nature are similarly often connected. The connections are endless, and this page is devoted to written resources that involve such relationships.

Conference & Campus Speakers On
Sustainability & Integral Issues Here >>

American Scientist On Plan B 2.0. Interview with Lester Brown. The Worldwatch Institute founder answers questions about his book, Plan B 2.0: Rescuing a Planet Under Stress and a Civilization in Trouble. He discusses the interrelationship between peak oil, water shortages, and global warming, the effect of China's emerging economy, economic globalization, the role of new technologies, and prospect of an ecological tipping point. Interview >>

Beyond Ecomilitarism: A New Path For Environmental Activism. Presentation by Bill Shireman. We are working to change a system within which other people who are caring and concerned are operating. We need to begin to look at these individuals within businesses not as enemies who've sold out and taken the big time job with the corporation, but as catalysts, potential change agents, who are perfectly positioned to make change. Presentation Excerpt >> More about Bill Shireman >>

Coalition for a Livable Future. Presentation by Denis Hayes. Keynote address at the Regional Livability Summit in Portland, OR. Coordinator of the first Earth Day, Hayes gives an account of the civil rights movement and the important parallels and lessons to be learned for the success of modern environmentalism. He discusses the importance of being politically active and the need to motivate through hope rather than fear. Presentation >> More about Denis Hayes >>

Core Concepts of Sustainability Advocacy. Article by Dennis Church. Just as with democracy, we're likely to get the future that we deserve. Nobody else will save us. We must save ourselves. This follows directly from the near total dysfunctionality of our institutions and the failure of our elites to take responsibility for the general welfare of society. Perhaps, more carefully stated, the only way to return our institutions to the functionality we need is to fix them ourselves. Article >> More about Dennis Church >>

Jobs Our Parents Never Heard Of. Article by Melissa Everett. "Here's one more reason," Everett writes, "to dread the infamous party question, 'What do you do for a living?' When you're talking about a fair number of the positions connected with protecting and restoring the environment, it is not easy to answer that question because so many new environmental jobs come in such unorthodox packages." Article >> More about Melissa Everett >>

New Paradigm For Local Government. Article by Dennis Church. The pressure on governments at all levels to change they way they do business is growing steadily. Public confidence in governmental institutions is low. Polls show many people feel a deep anxiety about the future. People no longer take a better future for their children as an article of faith. Article >> More about Dennis Church >>

No Need To Go Solo To Innovate: Try Intrapreneurship. Article by Melissa Everett. A lot of people are struggling with the dilemma: get a job or start a business? If you're an enterprising soul, but you're wishing for a supportive structure around you, consider a third path: creating something new within an established workplace. Article >> More about Melissa Everett >>

On The Future. Presentation by Huey Johnson. Johnson shares his thoughts on what life might be like in 2020. "The Bay Area in 2020 can be a disaster, or it can be a glorious, bright future. I see this as very critically hinged to environment. Much of it will be decided by priorities. We now know enough to solve the environmental problems that we face, but we have no support to do it." Presentation >> More about Huey Johnson >>

Overcoming The Seven Sustainability Blunders. Article by Bob Doppelt. Doppelt spent three years researching how public and private organizations have approached the issue of sustainability. He explains why so few have successfully adopted sustainability measures and why those that do often fall short of making the jump from rhetoric to action. Article >> More about Bob Doppelt >>

Preparing to Live in the Next Millennium. Presentation by Denis Hayes. For the first time in history, one species has developed the ability to change the entire world. Lots of species do lots of things in limited environments. A hundred twenty years ago in the Pacific Northwest, the human impact was probably less than the impact of beavers. That's certainly changed. Presentation Excerpt >> More about Denis Hayes >>

Promise Ahead: Is Humanity Growing Up? Book excerpt by Duane Elgin. A breathtaking view of the future relevant to anyone seeking to navigate through our profoundly changing world. From an insightful and inspiring book Promise Ahead: A Vision of Hope and Action for Humanity's Future (Buy Here >>). The sequel to Elgin's bestselling 1981 classic Voluntary Simplicity
. Book Excerpt >> Buy Here >> More about Duane Elgin >>

Recession Kids. Article by Josh Tetrick. Young people are hard hit by recession and are given a double-whammy of facing the world's mounting environmental problems. For many this can be psychologically deflating, but there are youth who are embracing Tetrick's mantra that "selflessness is profitable." They are using the latest technological innovations to solve the world's big issues. Article >>

Strategy For A Green Century. Interview with Huey Johnson. Responding to global climate change means thinking big. Changes in personal lifestyle are extremely important - but so are massive programs involving broad coalitions of citizens, lawmakers, and long-range planners. Johnson discusses his involvement in politics and policy, including implementation of an environmental protection program in California and the Green Century Project. Interview >> More about Huey Johnson >>

White Hunter, Green Heart. Interview with Huey Johnson. Long before global warming entered the national lexicon, before the EPA was established and the first Earth Day celebrated, Huey Johnson was working toward making the world—and the county—a greener place. And he's still at it. Interview >> More about Huey Johnson >>

The Work To Be Done: Making A Living While Making A Difference. Book excerpt by Melissa Everett. Making A Living (Buy Here >>) guides the reader through a program for career development that stresses personal fulfillment, integrity, and contribution. Lays out a framework for dealing with the unique challenges of establishing and maintaining a value-driven career. Book Excerpt >> Buy Here >> More about Melissa Everett >>

You're A Good Man. Interview with Lester Brown. Brown founded the Worldwatch Institute, one of the first think tanks to focus on the global environmental situation. In this in-depth interview, he discusses his book, Plan B 2.0: Rescuing a Planet Under Stress and a Civilization in Trouble. It details the environmental issues we face, such as climate change and population growth, and the systemic retooling necessary to achieve an environmentally sustainable economy and avoid disaster. Interview >>
An additional collection of articles on Sustainability & Integral Issues is available from The EcoIQ Magazine here.

Conference & Campus Speakers On
Sustainability & Integral Issues Here >>