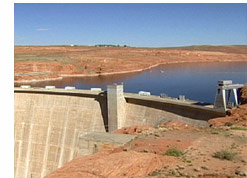 This section contains articles, reports, interviews, book and anthology excerpts, PowerPoint presentations, and presentation transcripts on water resources and water supply. Topics include water efficiency and conservation, water quality, drinking water supply, ocean, watershed, and aquifer protection, and creek restoration.
Water resource plans that stress water efficiency and water resources protection are an important part of environmental sustainability. Climate change, overpopulation, and wasteful use are making unsustainable demands on our global freshwater resources. Watersheds and oceans are also at risk because of development, pollution, and global warming. Water efficiency, water conservation, water reclamation, pollution prevention, improved land management, and ecosystem restoration will help us safeguard our water supplies and water habitats.

Conference & Campus Speakers On
Water Supply & Resources Here >>

50 Ways To Save the Ocean. Article by David Helvarg. Taken from his book 50 Ways To Save The Ocean, this simple listing provides a rich menu of practical, easily implemented actions for people who care about protecting the ocean. Article >> More about David Helvarg >>

#OccupyTheOcean. Article by Wallace 'J' Nichols. The ocean covers more than 70 percent of the Earth's surface, holds more than 80 percent of its biodiversity and 90 percent of its habitat. Phytoplankton in the ocean provide more than half of our oxygen and provide the primary protein for more than a billion people. More than half a billion people owe their livelihoods to the seafood industry. Humans have derived inspiration, joy, recreation and relaxation from the ocean for millennia, but we have treated the ocean poorly and its decline in recent decades has been catastrophic for our planet and its people. Article >> More about Wallace 'J' Nichols >>

Act Now ... Or Wastewater Costs Will Swamp Communities. From EcoIQ Magazine. The "Cost of Clean" is rising sharply. To focus national attention on skyrocketing wastewater infrastructure costs, two leading national water quality organizations have released startling findings on massive funding gaps facing local governments across the country. Article >>

Are Marine Mammals the New Canaries? Pollution Targets the Immune System. Article by Michael Castleman. In the Baltic Sea during early 1988, more than half of the harbor seals - some 25,000 animals - suddenly died. The die-off, the largest ever recorded for seals, was caused by a virus very similar to the one that causes distemper in dogs. Environmentalists immediately pointed to the cause - industrial wastes. Article >> More about Michael Castleman >>

Blue Mind. Article by Wallace 'J' Nichols. It turns out that globally, the ocean imparts a trillion-dollar premium on hotel rooms, condos, houses and all other forms of coastal real estate. People want to see and hear the sea from where they eat and sleep and are willing to shell out a lot of green to get some blue. Article >> More about Wallace 'J' Nichols >>

Chemical Chaos In The Ocean: The Death Of Dolphins And Sea Turtles. Article by Reese Halter. Dolphins and sea turtles are in dire jeopardy. Necropsies, or autopsies performed on animals, show that as poisons are brimming in the oceans, animal deaths are piling up. Article >> More about Reese Halter >>

Damn the Torpedoes & Torpedo the Dams. Article by Rob Caughlan. Four hundred miles of California's fabulous beaches are starving for sand, but surfers and other beach lovers have the muscle to bring them back. "We know why they're starving and shrinking, and we know how to rescue them." Article >> More about Rob Caughlan >>

Defending the Earth from Donald Trump. Article by David Helvarg. As a coastal developer, Donald Trump has bulldozed ancient sand dunes and opposed offshore wind turbines (because they "ruined the view") in Scotland, sought to build seawalls and fill in (smother) seagrass meadows and coral reefs in Florida, and built golf club luxury homes on a geologically unstable bluff in California where the eighteenth hole had earlier fallen into the sea. Article >> More about David Helvarg >>

Flush With Success. From EcoIQ Magazine. A study says that efficient toilets, showerheads, and faucets could save billions of dollars in water infrastructure costs for communities that encourage them. Article >>

The Lead Hazard: The More We Learn, The HEAVIER The Problem Looks. Article by Michael Castleman. Not long ago, the threat of lead poisoning seemed far removed from the middle class. Scientists believed that lead, a highly toxic mineral, affected only children so poor that hunger drove them to eat lead-laced paint chips peeling from inner-city tenement walls. But no one is exempt from the lead hazard any longer. Article >> More about Michael Castleman >>

The Ocean and President Trump. Article by David Helvarg. Like a rogue wave, the election victory of Donald Trump left about half the nation stunned and the other half giddy with foam. Among the worried parties, environmentalists are girding for a long series of battles around climate and expected attacks on keystone agencies. Article >> More about David Helvarg >>

Oceanophilia. Article by Wallace 'J' Nichols. It's time to drop the old notions of separation between emotion and science. Emotion is science. Let's convene the top marine scientists, skilled communicators, dedicated conservationists, and leading neurobiologists and cognitive psychologists to ask and answer the most probing and compelling set of questions about the ocean that we can imagine. Article >> More about Wallace 'J' Nichols >>

Pacific Trash Vortex Could Signify Future Of Our Oceans. Article by Summer Rayne Oakes. Oakes describes what she learned about ocean plastic debris from visiting with Charles Moore of the Algalita Marine Research Foundation. He has been studying the "great Pacific garbage patch" in the North Pacific Gyre. Article >> More about Summer Rayne Oakes >>

Present Value, Future Value: Intergenerational Ethics In Water Supply Planning. Article by Eric Rosenblum. In 1746 Benjamin Franklin warned, "When the Well's dry, we know the Worth of Water." As difficult as it is to anticipate thirst in the midst of rain, it is even harder to appreciate today the needs of generations yet unborn, and to provide for them. Article >>


Rage Against The Dying Of The Reefs. Article by David Helvarg. Tropical reefs cover less than 1 percent of the ocean, but are home and nursery to 25 percent of all marine species. Billions of fish, mollusks, and other creatures rely on reefs for food and shelter. Most marine scientists now believe 75 percent of the world's coral reefs will be dead due to accelerating climate change by mid-century. Half are already gone. Article >> More about David Helvarg >>

Strawless in America, Ban Them All. Article by Reese Halter. Plastic straws injure and kill untold numbers of sea birds and many other forms of sea life each year. Americans consume hundreds of millions of petroleum-based plastic straws daily. That amounts to an unfathomable number of plastic straws per year. A global plastic straw ban is needed. Article >> More about Reese Halter >>

Time Running Out To Stop Trump From Opening Marine Sanctuaries To Oil Drilling. Article by David Helvarg. Time is short if you care about preserving some of California's greatest natural wonders and recreational opportunities. Six national monuments in our state are at risk, along with parts of all four of the national marine sanctuaries off the California coast — Channel Islands, Monterey Bay, the Greater Farallones and Cordell Bank. Article >> More about David Helvarg >>

What Would Jacques Do? Article by Wallace 'J' Nichols. We must confront our own legacy with oil, plastic and associated toxins. We should stop pouring toxins, any toxins, into the drains around us; reject anything plastic we use once then throw away; and free our homes, schools and businesses of single-use disposable plastics. Article >> More about Wallace 'J' Nichols >>
An additional collection of articles on Water & Wastewater related issues is available from The EcoIQ Magazine here.

Conference & Campus Speakers On
Water Supply & Resources Here >>