---
Feature Articles:
Ciizens Want Teeth In Environmental Laws
Fight Global Warming: Create Jobs and Benefit the Economy
Climate Control Would Save Millions Of Lives
Recycled Glass Applications Expand
Mass Transit Critical to Chattanooga's Turnaround
---


ased on findings published in The Lancet -- the world's oldest medical journal -- the Working Group on Public Health and Fossil-Fuel Combustion predicts that hundreds of thousands of lives could be saved annually, an estimated 8 million by the year 2020, if climate control policies were adopted worldwide.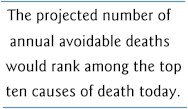 Dr. Devra Lee Davis, a leading environmental health researcher and director of the Health, Environment, and Development Program of the World Resources Institute, convened the Working Group. International experts in energy modeling, climate, atmospheric chemistry, and public health from the World Health Organization, the Environmental Protection Agency, the U.S. Agency for International Development, Harvard University, University of California, Berkeley and private consulting firms, collaborated in the conduct of the assessment.
The Working Group projects that if the world continues with what it defines as "business-as-usual" (or current) patterns of energy consumption and carbon emissions into the next century, instead of the implementation of international greenhouse gas emissions control policies (or the climate control policy scenario), the following public health consequences would ensue.
By the year 2020, more 700,000 deaths worldwide would occur annually -- from exposure to particles produced by fossil-fuel burning -- that could have been avoided if a climate control policy had been implemented.

From the year 2000 to 2020, the total number of avoidable deaths could reach 8 million worldwide (1.1 million in developed countries, and 6.9 million in developing countries). For the U.S. alone (over this same period), nearly half a million avoidable deaths are projected.

The projected number of annual avoidable deaths in the United States in 2020 (33,000) would rank among the top ten causes of death today.
What the assessment clearly shows is that regardless of how or when greenhouse gases alter the climate, reducing them now will save millions of lives worldwide by lessening particulate air pollution.

For more information on the study, visit www.igc.org/wri/press/lancetnr.html, or call WRI at 202-638-6300.