---
Feature Articles:
Ciizens Want Teeth In Environmental Laws
Fight Global Warming: Create Jobs and Benefit the Economy
Climate Control Would Save Millions Of Lives
Recycled Glass Applications Expand
Mass Transit Critical to Chattanooga's Turnaround
---


ccording to information released earlier this year by the Glass Packaging Institute (GPI), recycled glass (cullet), primarily used in the manufacture of new bottles and jars, is also being used in such unconventional secondary applications as the manufacture of fiberglass insulation, roadbed aggregate for the nation's highways, driving safety reflective beads and decorative tile.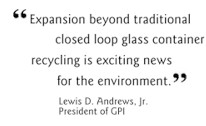 "We believe expansion beyond traditional closed loop glass container recycling is exciting news for the environment," said Lewis D. Andrews, Jr., president of GPI. "Glass container manufacturing plants across the country continue to use large quantities of furnace-ready cullet to reduce the need for virgin materials, increase energy savings and lessen critical air emissions," Andrews said.
Despite recent industry consolidation and an increasingly competitive marketplace, Andrews explained, the glass container industry is looking for new and reliable sources of quality cullet. The industry also continues to search for ways to combat the "waste" associated with commingling -- a curbside collection process that mixes all recyclables together and thus results in increased amounts of contamination and in some cases, non-useable cullet.
"Some sources cite more than 80 uses -- beyond the traditional closed loop application -- for cullet," Andrews said. "We believe that with responsible handling practices, glass container recycling will continue to expand. And we're encouraged by the increased use of color sorting and ceramic detection technology to help provide quality cullet."
For more information on glass container recycling and/or GPI's recycling education programs and materials, visit the GPI web site at www.gpi.org.