---
Feature Articles
Ciizens Want Teeth In Environmental Laws
Fight Global Warming: Create Jobs and Benefit the Economy
Climate Control Would Save Millions Of Lives
Flush With Success
Recycled Glass Applications Expand
Mass Transit Critical to Chattanooga's Turnaround
---


study says that efficient toilets, showerheads, and faucets could save billions of dollars in water infrastructure costs for communities that encourage them.
In recent years, new plumbing equipment designed to meet state and federal water-use standards, particularly the 1.6 gallon per flush (gpf) toilet, has been maligned by some in Congress and in occasional press reports. But a new study shows that cities both large and small are successfully promoting water conservation, including water-frugal toilets, faucets and showerheads.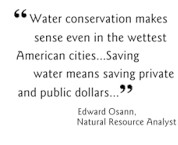 One major result of their efforts may be to postpone or avoid billions of dollars in water and waste-water infrastructure costs in the next two decades. And perhaps surprisingly, many of the states that stand to benefit the most from reducing their anticipated infrastructure costs through water conservation are located far from the arid West.
"Water conservation makes sense even in the wettest American cities, because the biggest costs connected with water are the pipelines and treatment facilities that are needed to bring clean drinking water in and to carry wastewater out. Saving water means saving private and public dollars, and that's why cities from Seattle to Tampa are actively and successfully promoting efficient plumbing fixtures," said Edward Osann, an analyst on natural resource issues who co-authored the report for a consortium of plumbing manufacturers, environmental groups and drinking water utilities.
Furthermore, despite anecdotal suggestions that consumers widely reject the efficient toilets, seven separate studies found that the vast majority of the people who own the 1.6-gallon units are satisfied with them. Most toilets made in the 1980s used 3.5 gallons of water per flush, while earlier models often used 5 gallons or more. There are about 25 million 1.6 gpf units now in service. A major consumer magazine found that "chosen carefully, a new toilet or showerhead can work at least as effectively as your present one ­ and use less water in the process."
"Environmentalists, water and sewer districts, and plumbing manufacturers have often been at odds over public policy issues. But this is one area where we all agree," said Ronnie Cohen of the Natural Resources Defense Council, an environmental group.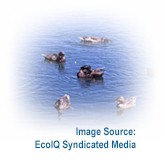 "Saving water is also a good way to improve water quality," she added, "by improving the quality of wastewater discharges, and by freeing up more fresh water to leave in rivers. She said the potential benefits of water conservation include maintaining aquatic habitat, restoring fisheries, protecting groundwater supplies from excessive depletion and contamination, and restoring the natural values and functions of wetlands and estuaries.
The report, called Saving Water, Saving Dollars, was funded by the Plumbing Manufacturers Institute, the California Urban Water Conservation Council and the Water Conservation Coalition of Puget Sound. It shows that nationwide, efficient plumbing fixtures could help postpone or reduce some portion of water-related infrastructure costs projected to total over $200 billion over the next 20 years. Twelve cities are profiled in individual case studies: Albuquerque, N.M., Asheville, N.C., Houston, Tex., Iowa City, Iowa, Los Angeles, Calif., Nashville, Tenn., New York, N.Y., Phoenix, Ariz., San Diego, Calif., Santa Monica, Calif., Seattle, Wash., and Tampa, Fla.
In New York City, for example, efficient plumbing fixtures helped bring average daily water consumption in 1997 down below 1.2 billion gallons from a high of 1.45 billion in 1988. New York was one of 17 states that had a 1.6 gpf law in place before a federal statute was enacted in 1992. Nationwide, 1.6 gpf toilets will be saving residential customers 2 billion gallons daily by 2010.
Ken Kirk, Executive Director of the Association of Metropolitan Sewerage Agencies, which represents over 180 wastewater treatment agencies, said that water savings translate into dollar savings. "Efficient plumbing products conserve water resources, save energy, and reduce the costs to local utilities whose savings are then passed on to local ratepayers."
John Wright, manager of the American Water Works Association's WaterWiser Program, added that "From a public policy standpoint, the accrued current and future benefits of efficient plumbing products to utility operators, rate-paying customers, and the environment are definitely positive."
Americans now spend about $50 billion each year on residential water and sewer bills, and an additional $16 billion on the cost of energy to heat domestic hot water, according to the report. In 1997, the Environmental Protection Agency told Congress that over the next 20 years, national investment needs for safe drinking water and for cleaning up wastewater will total $280 billion. About $200 billion of this is for facilities and equipment where the volume of water or wastewater flow can affect their required size and cost, according to the report.
"With its fiscal and environmental benefits, both current and projected, water conservation makes good sense for communities of all sizes, physical characteristics, and geographic locations. The experiences of the cities highlighted in this report amply demonstrate that making efficient use of water is a public policy that is widely shared and national in scope," said Osann.